I decided to participate in a secret Santa this December with
Sabrina
and
Z
. I sent a present to
Mrs. Aguila
and received one from
Kate
. I loved doing this gift exchange and hopefully can do one next year!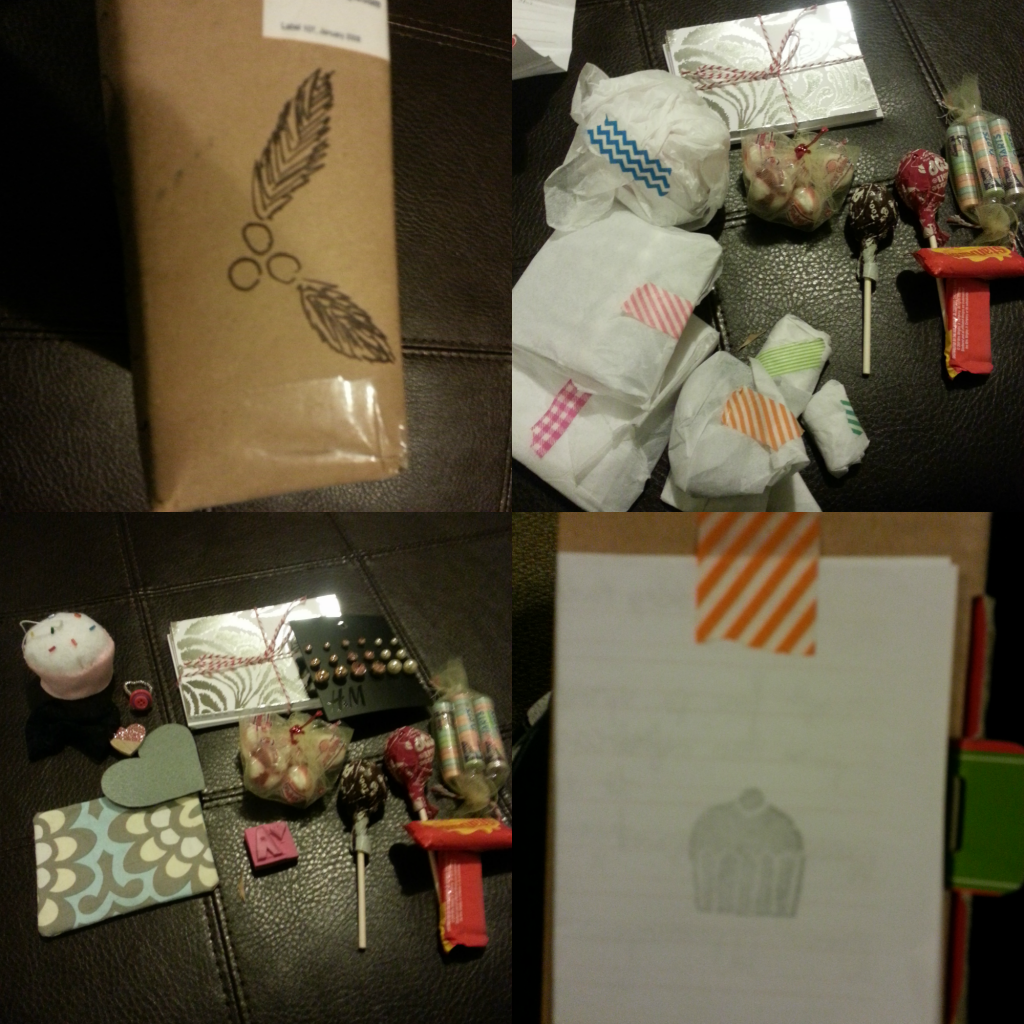 One.
The outside of my package was decorated beautifully. At first I thought this mistletoe was a snitch and squealed. I think I have been reading too much Harry Potter lately.
Two.
All of my little presents were individually wrapped. I had so much fun unwrapping each of them. That candy was gone in about 10 minutes.
Three.
All of presents unwrapped. I loved them all. There was thought behind each one. Oh and they were handmade which I love.
Four.
I didn't find the note until the very end. I was worried that I wasn't going to know who my secret Santa was. I am so glad!
one. It feels like she knows me because I just lost my pearl earrings and bam there they are in the mail.
two. This cupcake ornament is absolutely adorable.
three. Shiny, animal print, and stationary! All of my favorite things combined. I cannot wait to start sending these babies out in the mail.
four. A stamp to put on all the letters I mail out. This is perfect! I just need some ink so I can go stamp crazy!
five. The cutest little lace bow (for my hair) that I ever did see.
six. A handy book marker that slides on the edge of the page. And the other side is purple, my favorite color.
seven. A cute magnet for my fridge.
eight. A button ring.
nine. A cute Kleenex holder that is going to be perfect for my purse. I hate not having a Kleenex when I need one.
I just loved all of Kate's presents. A lot of them were hand-made, and I could just feel all the love and work she put into it. Handmade presents are my favorite! Thanks again Kate!
Anyways, I hope everybody has a very Merry Christmas!