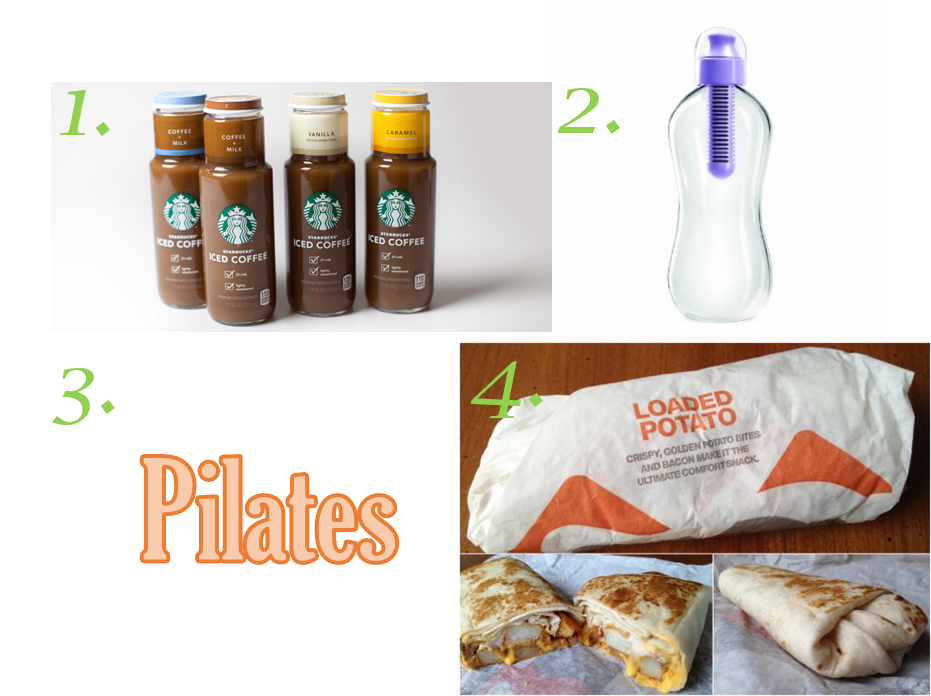 1. Starbucks Iced Coffee. Seriously this stuff is so good. Right now the vanilla flavor is my favorite, but I have not tried the caramel yet. But once I try it, that will probably be my favorite! I used to love the Starbucks Frappucinos in the bottle, but I like these 20x more! They aren't as sweet and are half the calories.
2.
Bobble Water Bottle
. I love my Bobble. I am one of those people who takes her water bottle everywhere. I am constantly drinking out of it. I am funny about how my water tastes so the filter is wonderful. It ensures that I can fill up my water bottle pretty much anywhere.

3. Pilates. Prior to moving, I was obsessed with Pilates. I was able to take it for free at the University Rec Center which made it much more budget friendly. The Rec Center at my new university does not offer Pilates classes, so I need to try to find a studio somewhere that isn't too crazy expensive! I am thinking about trying a workout DVD, have you tried a Pilates workout DVD? Is it anything like the actual class?

4. Taco Bell Loaded Potato Grillers. These are so bad for me, but so good. It is bacon, potato, cheese, and sour cream. There is no way that can be bad! The real dangerous part about these is that they are only $1 each when you buy them during happy hour. Seriously, go try them now!
What are you currently obsessing over lately?