This past weekend, my boyfriend and I headed up to Laramie, Wyoming for a short little getaway. He currently lives in Indiana, and we are doing the long distance thing. So when he comes to visit, I like to do fun things with him.
Our mini vacation was pretty spontaneous. I just looked at a map and looked for a city that wasn't too far away and if a quick Google search indicated that there was something to do there then that's where we headed. Laramie was great for a short visit. We had plenty of things to do, but we also were not so overwhelmed that we couldn't relax.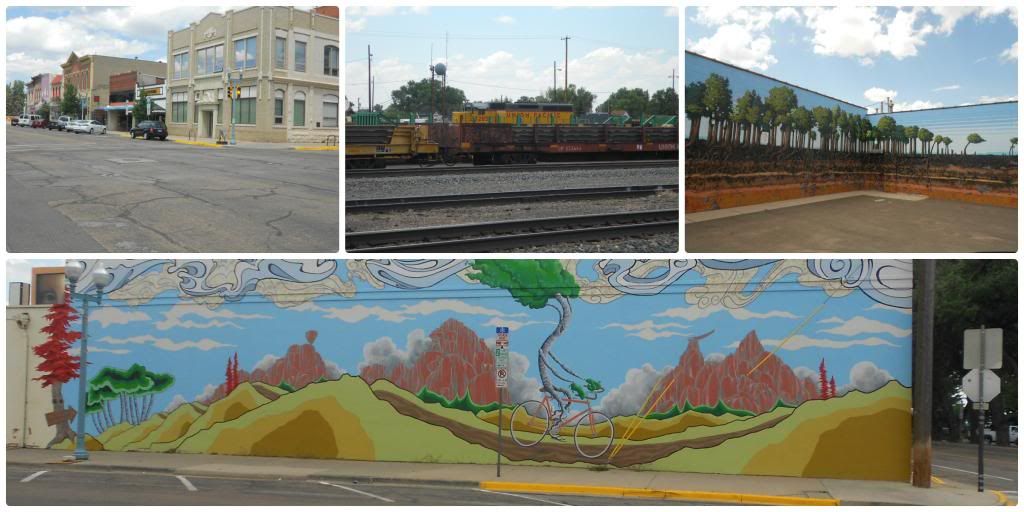 one.
Downtown Laramie - Laramie has such a cute little downtown area filled with shops and restaurants. It almost feels like you are stepping back in time. There are few chain stores here so it was really fun to explore the cute shops.
two.
Train yard - Near downtown there is a train yard. I may be weird, but I think that trains are really cool. You could get on a bridge and walk over the train yard and watch the trains moving about.
three. & four.
There were these two really cool murals that we found while we were exploring. We found them painted on the sides of the buildings, but didn't know why they were done or who the artist was.
On Saturday, we went on a hike in Medicine Bow National Forest. We had picked out a trail to hike, but when we got there we couldn't find the trail so we just winged it on a different trail, and it was great (well except for the fact that we forgot about bug spray)!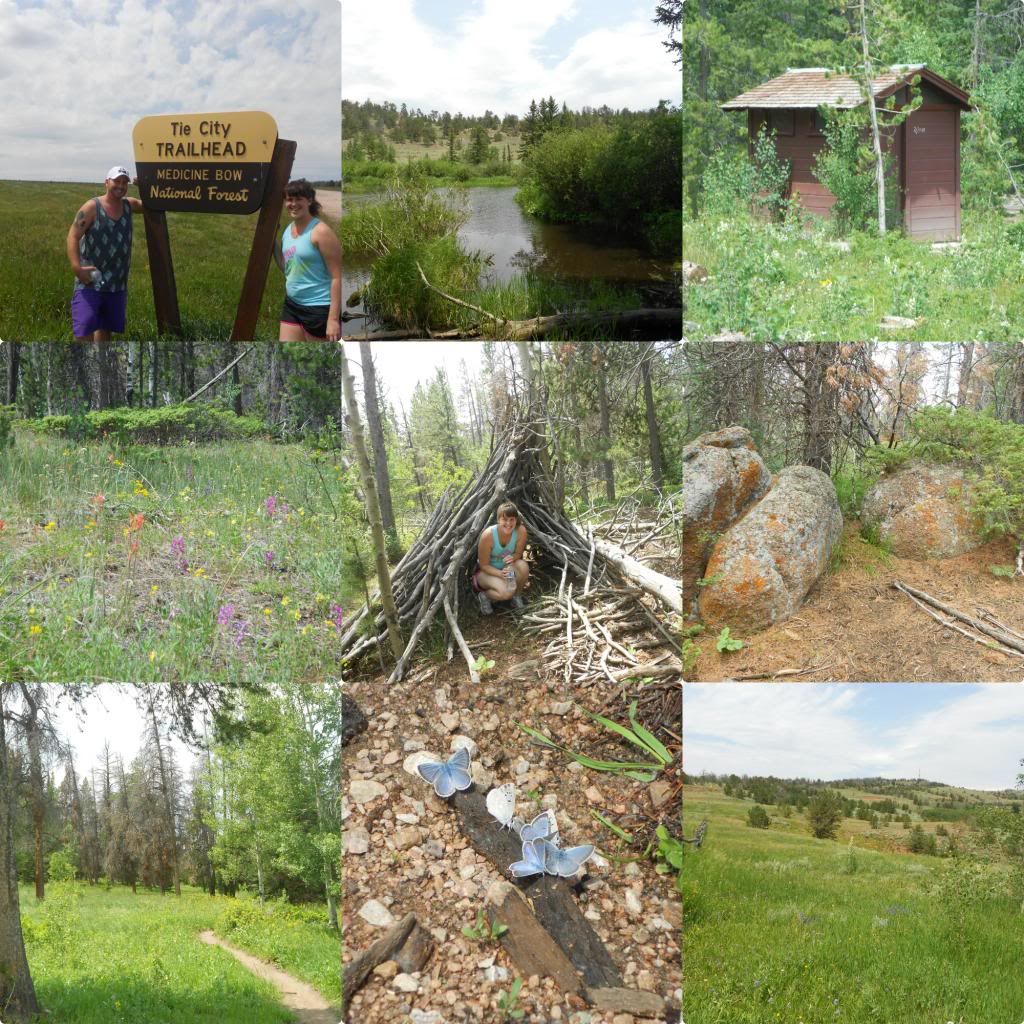 one.
We couldn't find the right trail head initially, but this one worked out great!
two.
As we were hiking, we stumbled upon this beautiful pond.
three.
There was an outhouse along the trail that I doubt is in use, and I thought it was really pretty how it was nestled in the forest. Maybe it is odd that I took a picture, but oh well.
four.
I found this prairie of flowers to be gorgeous! There were red, yellow, and purple flowers all growing together!
five.
Not sure who made this teepee, but it was a good photo op.
six.
I think rocks are cool, especially when they have things growing on them. Maybe this is the science nerd in me coming out.
seven.
A snapshot of the trail.
eight.
These blue butterflies were gorgeous and were perfectly posing for me to get a picture.
nine.
The view from the trail head.
On Sunday before heading home, we headed to the Wyoming Territorial Prison. The prison has been closed since 1903. I wasn't sure how fun it would be, but I loved it and would definitely go back again!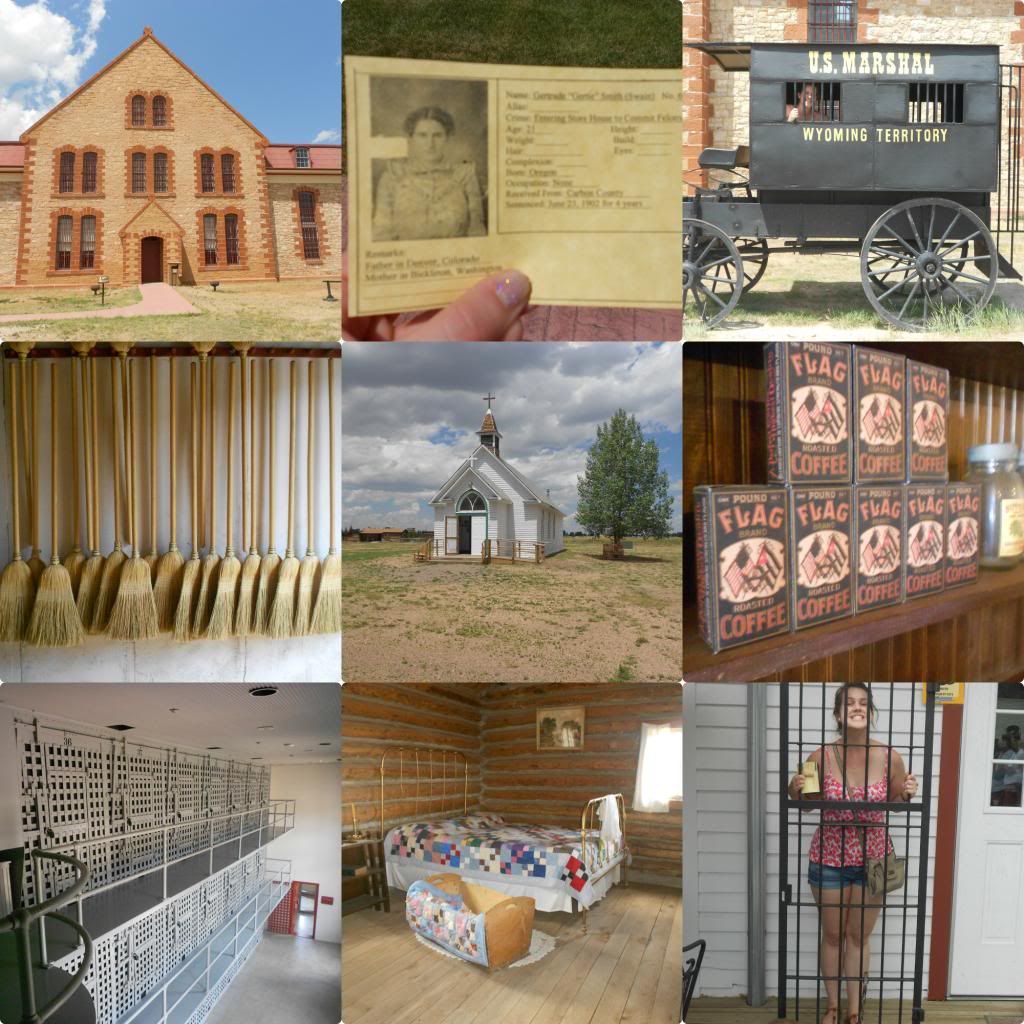 one.
The outside of the prison. When the prison was fully functional, it actually did look like this.
two.
When you go through the museum, you are given an inmate and then when your tour is over, you find out what happens to you. I was Gertie Smith. I was paroled shortly after entering the prison because I was pregnant, and the warden didn't want to have to deal with child birth. I date later in the year during childbirth. I am not sure if that is karma or not, but either way that is pretty tragic stuff.
three.
Just in the prison buggy heading to jail.
four.
The prisoners made brooms as a way to help finance the prison. They have a replica of the factory where you can learn all about broom making.
five.
I found this old chapel to be very pretty. It was a tiny little church with only about 10 pews inside!
six.
They had a cute little general store that was modeled after the late 1800s. It wasn't part of the prison, but it was there to show us what life was like at the time.
seven.
The inside of the prison. There were two people to these small cells. The prisoners only got out for hard labor and were not allowed to speak to each other. Not even to their cell mates!
eight.
They also had a ranch home that had been preserved from the 1900s. I was really cool to see how life used to be lived.
nine.
I was a happy prisoner?
Anyways, I had a busy but fun weekend. I hope you had a great weekend too!
Also, how much does work suck after a long weekend?